Store samples in the Danish National Biobank
The Danish National Biobank offers storage at -20°C, -80°C and in liquid nitrogen tanks at -196°C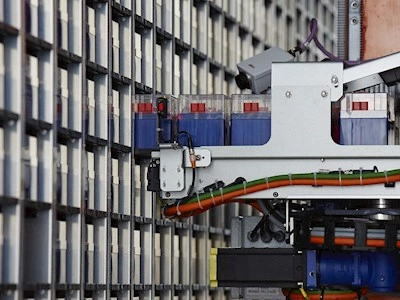 Automatic storage price list
-20°C

| | | |
| --- | --- | --- |
| Freeze format | Price per tube | Price per plate/box |
| 0,5 ml Matrix-tube 96 pcs. | 0,30 | 29 |
| 0,75 ml Matrix-tube 96 pcs. | 0,45 | 43 |
-80°C

| | | |
| --- | --- | --- |
| Freeze format | Price per tube | Price per plate/box |
| 0,5 ml Matrix-tube 96 pcs. | 0,50 | 48 |
| 0,75 ml Matrix-tube 96 pcs. | 0,85 | 82 |
| 1 ml Matrix-tube screwcap 96 pcs. | 1,25 | 120 |
| 1,4 ml Matrix-tube 96 pcs. | 1,00 | 96 |
Manual storage price list
-20°C
| | | |
| --- | --- | --- |
| Freeze format | Price per tube | Price per plate/box |
| Box 13x13x5 cm (1-2 ml tube 81 pcs.) | 0,25 | 20 |
| Box 13x13x7 cm (4-7 ml tube 81 pcs.) | 0,37 | 30 |
| Box 13x13x10 cm (10 ml tube 36 pcs.) | 1,25 | 45 |
-80°C
| | | |
| --- | --- | --- |
| Freeze format | Price per tube | Price per plate/box |
| Box 13x13x5 cm (1-2 ml tube 81 pcs.) | 0,31 | 25 |
| Box 13x13x7 cm (4-7 ml tube 81 pcs.) | 0,43 | 35 |
| Box 13x13x10 cm (10 ml tube 64 pcs.) | 1,39 | 50 |
| 0,5 ml Matrix-tube 96 pcs. | 0,10 | 10 |
| 0,75 ml Matrix-tube 96 pcs. | 0,16 | 15 |
| 1,4 ml Matrix-tube 96 pcs. | 0,21 | 20 |
-196°C (nitrogen)

| | | |
| --- | --- | --- |
| Freeze format | Price per tube | Price per plate/box |
| Box 13x13x5 cm (1-2 ml tube 81 pcs.) | 0,99 | 80 |
| Box 13x13x7 cm (4-7 ml tube 81 pcs.) | 0,99 | 80 |
| 0,5 ml Matrix-tube 96 pcs. | 0,26 | 25 |
| 0,75 ml Matrix-tube 96 pcs. | 0,31 | 30 |
| 1,4 ml Matrix-tube 96 pcs. | 0,36 | 35 |
Storage prices are listed in DKK per year and ex. VAT. Cost for registration and handling are not included. The automated systems are more expensive than manual when it comes to storage, but are cheaper and faster in uptake and retrieval of samples. To view retrieval prices, go to Our samples.
Biological samples in the Danish National Biobank
See how biological samples are handled and stored in the Danish National Biobank. The biobank stores several millions of samples that can be made available for approved research projects.